David Rand
2018-08-23
This year, 2018, Atheist Freethinkers participated in the Montreal LGBT Pride Parade. On Sunday August 19th a group of us gatherered behind our association's banner and demonstrated among the many other groups involved, on René-Lévesque Boulevard.
We have already been part of Montreal Pride events several times in the past. Our first involvement goes back to 2010, a year before the official founding of the organization LPA-AFT, at the time when we formed the organizing committee of the Atheists Without Borders convention. Then we participated in the parade in 2013, 2014 and 2015. Finally, we participated in Community Day in 2016 and, in collaboration with the group LGBT pour la laïcité (LGBT For Secularism), in the parade that same year.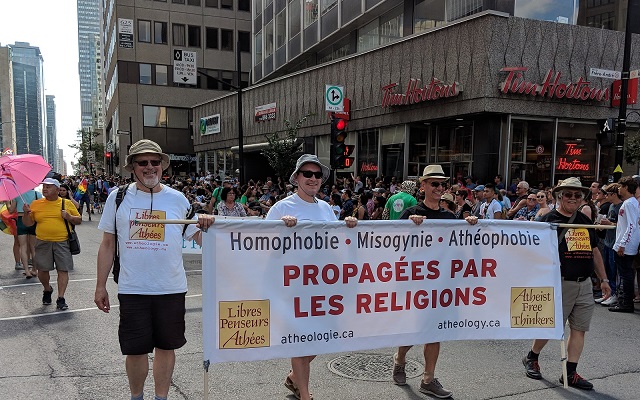 Click to view full size
So we were very eager to participate again this year 2018. Our contingent consisted of only nine persons, but we formed a dynamic and highly motivated team. This year we carried a new banner (design: Denis Thériault) with the slogan:
Homophobia • Misogyny • Atheophobia
PROPAGATED BY RELIGION
…in order to denounce the harmful effects of religion in general, and in particular the three monotheistic religions: Judaism, Christianity and Islam. Below is a short video recorded by Jean-Paul Lahaie showing our contingent in the middle of the parade. The crowd lined up along the sides of René-Lévesque boulevard often reacted very positively to our presence and to the message communicated by our banner. You are no doubt familiar with the proverbial invisibility of atheists in the public sphere, an invisibility which is imposed not only by the various religions, but also by the ideologues of communitarianism who would like to silence all criticism of religion in the name of a very unhealthy and regressive propriety. In the presence of tens of thousands of persons, we were proud to come out openly as atheists and thus break that wall of silence.
If the video above does not display correctly, you may also view it on the Youtube website.
More photos in our Meetup.com space.
---