David Rand
2016-08-20
In previous years, our organization Atheist Freethinkers has participated several times in the Montreal LGBT parade, including last year.
Community Day
This year 2016, we decided to take part in the Montreal LGBT Community Day, an event held the day before the parade, on Saturday August 13th. Along with many other organizations, we occupied a table on St. Catherine St. East, which was closed to all vehicular traffic, from 11 am to 5 pm. We formed a team of several volunteers, distributing information about atheism and about AFT, chatting with the many passers-by and selling our t-shirts and stickers. See Photo # 1.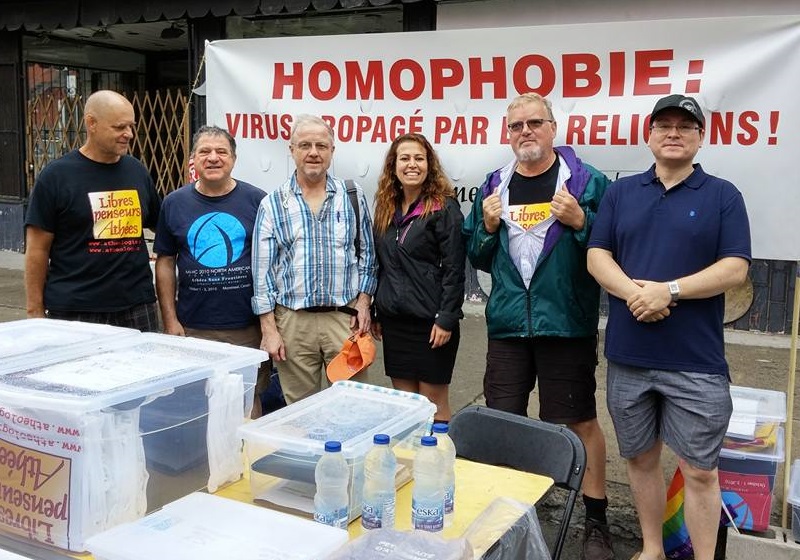 Click to view full size
Photo # 1: The AFT team at Montreal LGBT Community Day, 13th, 2016.
From left to right: Marco DeRossi, Gilbert C., David Rand, Dalia, Michel C. and Pierre Thibault.
It was a rainy day and, although there was never an abundant downpour, there was unfortunately enough rain to interfere somewhat with our activities. Nevertheless, the pedestrian street was crowded and we took the opportunity to discuss with many of those present. It turned out to be a pleasant day, a good experience of teamwork. I warmly thank all volunteers—those in the photo, as well as Pierre-André who was also present.
One small downside to report: towards the end of the day, two individuals appeared at our table to engage us in conversation. However, they were clearly not there to request any information, but rather to scold us in a way they had prepared in advance: indicating our banner with the slogan "HOMOPHOBIE VIRUS PROPAGÉ PAR LES RELIGIONS" ("HOMOPHOBIA VIRUS PROPAGATED BY RELIGIONS"), they declared that we were in error, that we should not make such statements. But why not? Apparently because there are some gays who are Muslim. What? To criticize religious homophobia can be harmful for Muslim gays? What an idiotic idea!
In order to benefit Muslim gays (and gays in general), it is not only desirable but indeed necessary to criticize religious dogmas—the dogmas of Islam, Christianity, Judaism and many other religions—which are utilized to justify persecution of sexual minorities. Furthermore, to benefit Muslims in general, including gays, we must promote freedom of conscience by denouncing the ban against apostasy (i.e. against leaving one's religion), a ban which is a central tenet of Islam. In several Muslim-majority countries, apostasy is subject to very several punishments, even the death penality. Criticism of religions is thus absolutely necessary.
The Parade
The next day, August 14th 2016, we of AFT joined the contingent of the group LGBT pour la laïcité (LGBT for Secularism) with which we have in common our support for secularism, true secularism. Like AFT, the group supported the Charter of Secularism in 2013-2014. The theme of their participation was commemoration of the victims of the recent terrorist attack in Orlando and condemnation of the religious homophobia which motivated that horrific attack. The principal banner declared that "Orlando nous rappelle que L'HOMOPHOBIE RELIGIEUSE TUE" or "Orlando reminds us that RELIGIOUS HOMOPHOBIA KILLS" (see Photo # 2) and the AFT banner with its complementary message followed behind.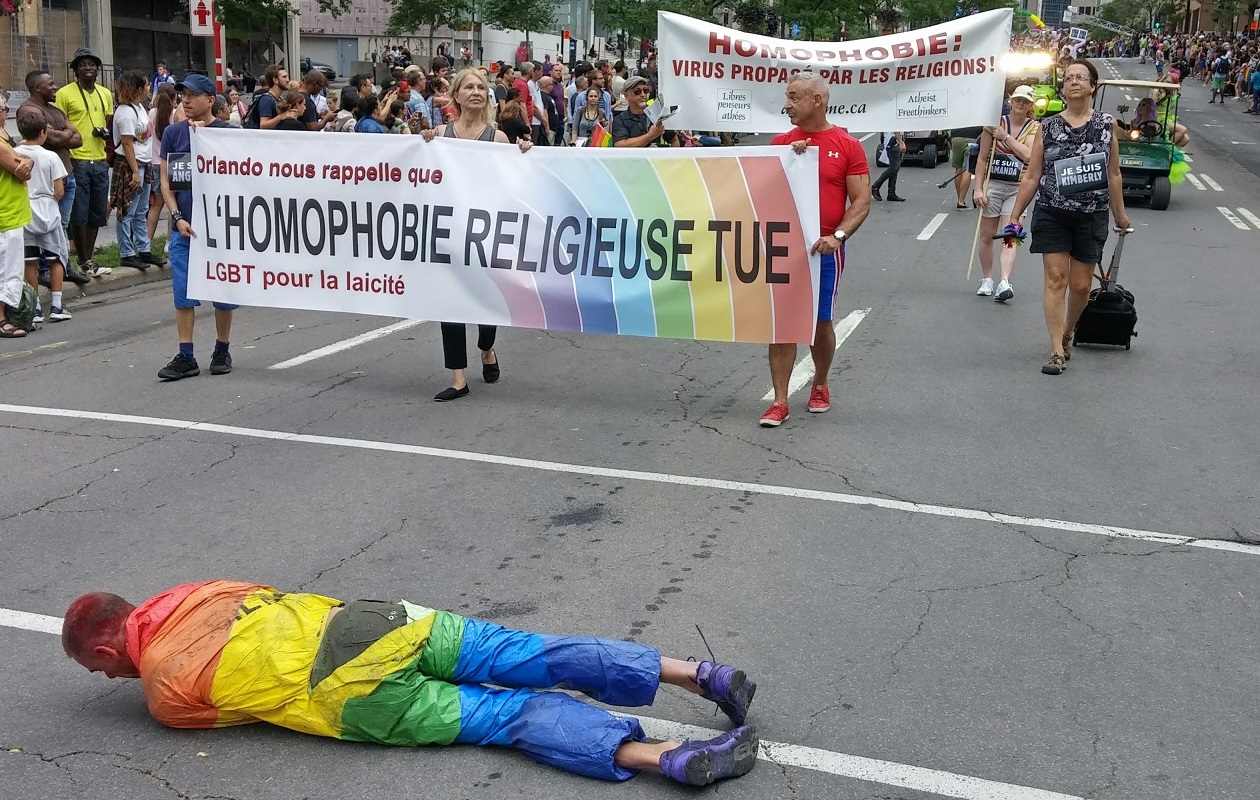 Click to view full size
Photo # 2: Contingent of the group LGBT pour la laïcité (LGBT for Secularism) in the parade, August 14th 2016
with Mario Bérubé, rolling on the pavement, representing one of the victims of the Orlando attack
and the banner of Atheist Freethinkers at the rear of the contingent
As participants in the contingent, we wore small signs, each one of which displayed the name of a victim. For example, I wore the sign stating "JE SUIS ALEJANDRO". I learned that Alejandro was a young Cuban who had moved to Orlando with his father in 2014. This gesture adds a more human aspect to the commemoration of a tragedy in which, unfortunately, the deaths may appear too abstract to us, like mere statistics.
But the most impressive element of the contingent was undoubtedly the remarkable performance of our friend Mario Bérubé who played the role of a victim in the attack. Wearing the rainbow colours of the gay flag, Mario travelled almost the entire distance of the parade by rolling along the pavement. Holding a banner for hours is perhaps tiresome, but it is very little in comparison with Mario's masterful effort.