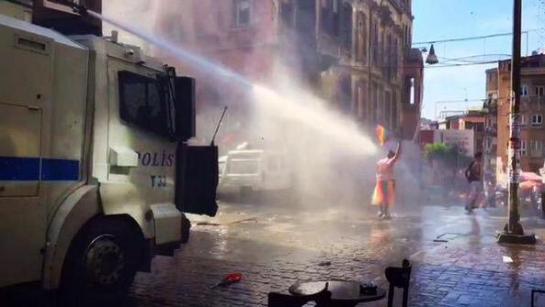 In the streets of Istanbul,
a participant in Gay Pride 2015,
carrying a rainbow flag,
is sprayed by a police water cannon.
Twitter/@metesohtaoglu
In Ankara, Turkey, an Islamist group has erected a number of posters threatening homosexuals with death.
In Istanbul, the police, using tear gas and water cannons, brutally put down the traditional annual LGBT march. The provincial governer claimed that the demonstration was forbidden, but organizers asserted that the event was banned at the last minute on the pretext that it coincided with Ramadan, the traditional month of Muslim fasting.
Homosexuality is not illegal in Turkey, but homophobia is widespread and often violent.