1st February 2019
Djemila Benhabib
Publication: 2019-01-29
I need your help for a successful launch of this movement: #NoHijabDay, #FreeFromHijab initiated on the web, via Facebook and Twitter, by our Iranian and Saudi sisters who are fighting against oppression and against the compulsory veiling of women in their countries.
What can I do to help? Very simple.

Spread the word. You can follow these Facebook accounts:
Ensaf Haidar, Shaparak Shjr Shaparak-shjr, Yasmine Mohammed
Post a photo of yourself with a headscarf hanging from a stick, a very simple yet forceful gesture, and so powerful. And you men, don't hesitate to join the movement! This invitation is for you too, of course. The photo, you can do it in a group or as an individual. Whatever feels right. Just use your imagination, but choose an attractive background if possible! Surprise yourself!
Maybe you can help me personally. Last year, in solidarity with Iranian women, I posted a photo of myself with my daughter, and that photo garnered more than 100,000 views on Twitter. This year, my goal is 200,000. Can you give me a hand? I can't do it without your help!

When should you post your photo? As soon as possible. Especially on February 1st. Or start right away. Go ahead, allez, yallah, post that darn photo!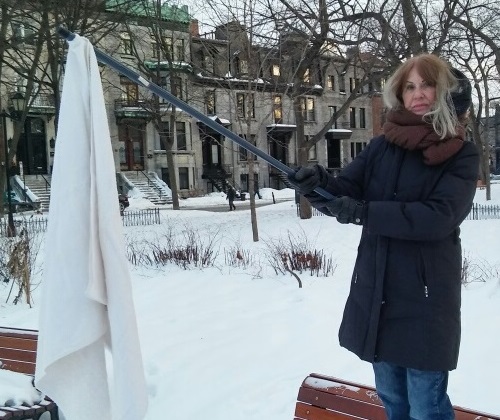 Click to view full size
Micheline Rioux #NoHijabDay
A few words about the context: back in 2013, in New York, Hijab Day (yes, that's right) was born. After contaminating the English-speaking world, this initiative started to catch on in Europe and in Quebec, mainly in universities (believe it or not!). Pro-hijab activists love to contemplate their own belly buttons, show off in public and try to convince us that the hijab is just so TOTALLY cool! What courage does it take to wear a hijab under the protective dome of Western democracies who constantly push the envelope further and further in the direction of obsessive individualism, even when that means being blind to intolerance? The truth is, pro-hijab activists risk nothing. They are protected by laws from which they benefit greatly, but without ever contributing to their advancement. On the contrary, they pervert such laws. Let me be clear here: I am speaking of pro-hijab activists, those who blithely deny the scope and function of that straitjacket; I am not targeting all women who wear the veil. I have enough experience to know full well that the veil is a response to various constraints dictated by diverse contexts and complex circumstances. Nothing is simple.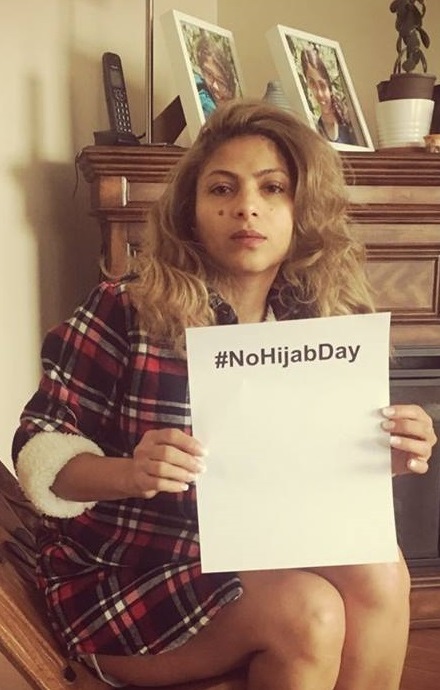 Click to view full size
Ensaf Haidar #NoHijabDay
The purpose of this #NoHijabDay #FreeFromHijab campaign which I invite you to support is to express our solidarity with Saudi and Iranian women. Those courageous women who, day after day, post photos of themselves without the veil. They are in grave danger. Every street corner, every doorway represents a risk. They risk prison or exile—even death. I hear their hearts beating feverishly. And yet, they do not back down. That is courage! It can be found in the physical freedom to inhabit the world while fully affirming one's femininity, against all odds. Do not fear women's hair!
This action takes on a special meaning for me as it stirs up painful memories. How can I forget Katia Bengana (age 17), assassinated on February 28th 1994 and Amel Zahnoune (20) assassinated on January 26th 1997, in Algeria, by the hordes of the Islamic Salvation Front (FIS). In Canada, I discovered other realities. The same obsession to control women. Blood spilt in the name of "honour." The murders of Aqsa Parvez (16), on December 10th 2007, and four members of the Shafia family, on June 30th 2009 in Kingston, Ontario, left gaping wounds. The sisters Zainab (19), Sahar (17) et Geeti Shafia (13) as well as Rona Amir Mohamed (age 50) were found dead, drowned in a car. These women all had two things in common. The affirmation of freedom through their lives. Until the last breath, these courageous women stood up to their killers.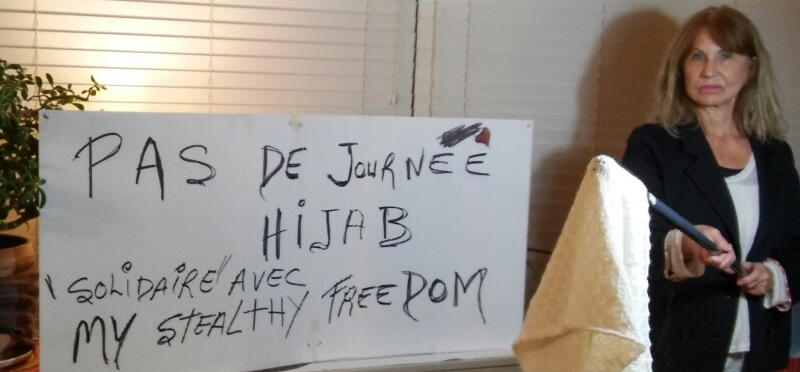 Click to view full size
Micheline Rioux #NoHijabDay
All this underlines just how much the emancipation of women remains a crucial and compelling issue. The results of this resistance will determine the world of tomorrow. Our enemies are numerous and diverse. There are of course fundamentalist religions, barbaric and archaic traditions and cultures, as well as "ordinary" sexism and misogyny. But there is also the idiocy of cultural relativism. "We must face the fact that, from now on, terrorism presents itself in ways other than young goons armed with kalachnikovs." This is what Riss declared when speaking of Charlie Hebdo's fight for freedom of expression in a special issue entitled The Return of the Anti-Enlightenment. For women, both are equally bad: while the fundamentalists kill, the relativists provide support. With the same results: to cut women's wings.
Resist! Post your photos!
Thank you deeply. With all my gratitude.
Djemila B.
Links
---