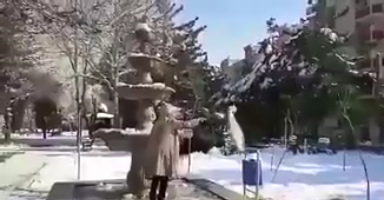 Click to view video
An elderly Iranian woman removes
and agitates her veil in protest.
She is apparently not
one of those arrested.
Iranian police arrest 29 for involvement in hijab protests, Eliza Mackintosh, CNN, 2018-02-03.
Police in the Iranian capital, Tehran, have arrested 29 people for their involvement in protests against the country's compulsory headscarf law. Women across Iran have been removing their headscarves in public to protest Iran's strict Islamic dress code. Videos and photos shared on social media have shown demonstrators standing on utility boxes on street sidewalks, defiantly waving their hijabs.

Tehran police suggested that their actions were incited by foreigners, saying those arrested were "deceived" into removing their hijabs, Iran's semiofficial Tasnim News Agency reported. The 29 protesters have been transferred to judicial authorities, the report said.

Masih Alinejad, the Iranian activist behind the "White Wednesday" social media campaign against mandatory hijabs, who is now based in the US, told CNN that the movement has not been influenced from abroad. "This is a campaign that's been going on for years and years. The women of Iran have long been ignored. We're just giving them a platform." News of the arrests came just days after the release of Vida Mohaved, a woman who was detained in December after removing her headscarf at an anti-regime protest. The wave of anti-goverment demonstrations last month was sparked by concerns over rising living costs and a stagnant economy, but also provided an opening for Iranian women to push for equal rights. Women have been required to wear the hijab since the Islamic Revolution in 1979.
Courageous women, who deserve our full support and respect. The response of Iranian authorities is ridiculous in the extreme, accusing the protesting women of ignorance and foreign influence.
See also: