Charlie Hebdo anniversary edition cover released: 'the assassin is still out there', The Guardian, 2016-01-04
French satirical weekly Charlie Hebdo will mark a year since an attack on its offices with a cover featuring a bearded man representing God with a Kalashnikov slung over his shoulder, accompanied by the text: "One year on: the assassin is still out there."

[…]

It will mark a year since brothers Chérif and Saïd Kouachi burst into Charlie Hebdo's offices in eastern Paris and killed 12 people, including eight of the magazine's staff.

[…]

Cartoonist Laurent Sourisseau, who took over the management of the weekly after the attack, also wrote an angry editorial in defence of secularism. It denounces "fanatics brutalised by the Koran" as well as those from other religions who hoped for the death of the magazine for "daring to laugh at the religious". Sourisseau, known by the nickname Riss, narrowly escaped death and was seriously wounded in the attack a year ago.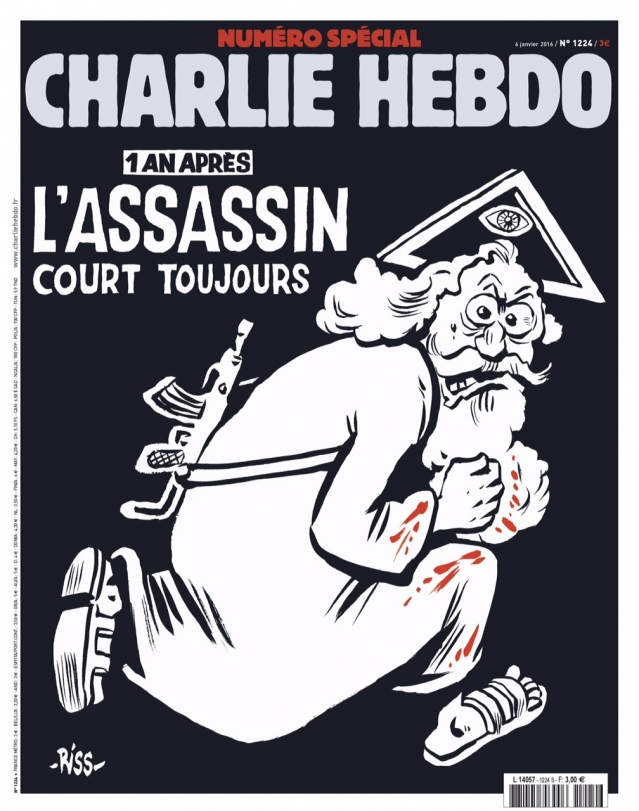 Click to view full size
To mark the first anniversary of the January 7th 2015 attack—during which two Islamist commandos killed twelve, including eight of the magazine's staff—Charlie Hebdo publishes a special edition this January 6th 2016 with the cover on the left.
The cover's image may offend some, but it is very relevant. Indeed, it is the belief in the "God" of monotheism—a god who orders the faithful to commit acts of murderous violence in his name—which is the essential cause of the folly that is jihadism.
See also: