Femen stages topless protest at Muslim women's fair , RFI English (Radio France internationale), 2015-09-14.
Two members of the Femen feminist group staged a topless protest at a Muslim women's fair near Paris this weekend. Earlier a petition had called for the event to be banned because of the alleged presence of fundamentalist preachers who justify rape in marriage.

The women – one of Algerian origin, the other Tunisian – leapt onto the stage and exposed their upper bodies daubed in slogans as two imams debated […]

[…]

A video posted on YouTube shows the women shouting "Nobody subdues me, nobody owns me, I am my own prophet!" in French and Arabic. Stewards bundled them off the stage and handed them over to police, who detained them briefly before releasing them overnight.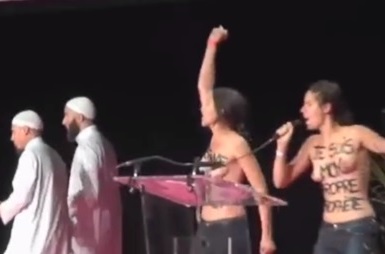 Image from the video
We salute the courage of these intrepid women who, by disrupting an event promoting submission, denounced the extreme misogyny of fundamentalist Islam.
See also: