Solidarity with Raif Badawi
Posted By admin On 2015-01-30 @ 22:39 In | Comments Disabled
---
---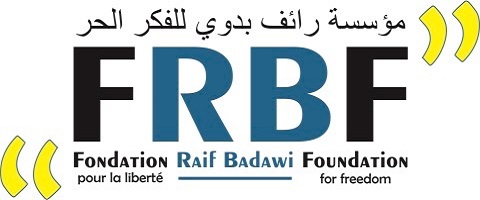 MONTREAL, Sept.11, 2015 /CNW Telbec/ – Today the Raif Badawi Foundation for Freedom [1] was officially launched by friends and family. The Foundation is named after the blogger, who is imprisoned since 2012. Raif Badawi was condemned to a thousand lashes in Saudi Arabia, for he was accused of apostasy and of insult to Islam. The Foundation's objectives are to providie education on the topic of freedom of press and freedom of speech.
The announcement was made successively in Germany and in Montreal. The President, Mrs. Ensaf Haidar, Mr. Badawi's spouse, was in Berlin to meet with dignitaries in order to gain their support regarding her husband's liberation, atop of taking part in the press conference. "I am truly grateful for the support that has emerged across the world for the Foundation. This justifies in my opinion, its very existence and its necessity," declared Mrs Haidar. "Its goal happens to embody Raif's values, who would be very happy to see that his struggle is a concern for so many people around the world," added Mrs. Haidar. It is to be noted that Mr. Badawi will be honorary president of the Foundation.
---
---
2014-05-28: Two more penalties for Saudi Blogger Raif Badawi
We have just learned that on May 28th 2014, a Saudi court added two new penalties to the already draconian punishment meted out to the blogger Raif Badawi, for the "crime" of insulting Islam in his writings. Thus, in addition to the 10-year prison term, 1000 lashes and 1,000,000 riyal fine declared by the court on May 7th, this more recent decision adds 10-year travel and publication bans to follow his release from prison.
Thus, the penalties against Raif Badawi are now:
Ten years in prison for creating the Saudi Liberal website and insulting Islam.
One thousand lashes, to be completed in 20 sessions in front of a mosque, for creating the Saudi Liberal website and insulting Islam.
A fine of one million riyals.
A ten year ban on foreign travel after his release.
A ten year ban on participation in visual, electronic or written media after his release.
See also:
---
Article printed from Atheist Freethinkers: https://www.atheology.ca
URL to article: https://www.atheology.ca/badawi-raif/
URLs in this post:
[1] Raif Badawi Foundation for Freedom: http://www.fondationraifbadawi.org/en/
[2] Help me free my husband: https://secure.avaaz.org/en/free_raif_badawi_loc/
[3] Deutsche Welle Freedom of Speech Award for Raif Badawi: http://www.dw.de/dw-freedom-of-speech-award-for-raif-badawi/a-18277222
[4] 20 rights groups to bestow courage award upon Saudi blogger at Geneva Summit: http://www.genevasummit.org/press/176/20_rights_groups_to_bestow_courage_award_upon_saudi_blogger_at_geneva_summit_
[5] Raif Badawi's Sister: Saudi Arabia Jailed My Entire Family: http://www.thedailybeast.com/articles/2015/02/15/raif-badawi-s-sister-saudi-arabia-jailed-my-entire-family.html
[6] Vigil for Raif Badawi: http://www.amnistie.ca/evenements/2015/vigile-pour-raif-badawi-bloggeur-en-arabie-saoudite
[7] 1000 LASHES HAVE STARTED, ARE PLANNED TO TAKE PLACE OVER 20 WEEKS!: http://e-activist.com/ea-action/action?ea.client.id=1770&ea.campaign.id=32768
[8] Shame and scandal in Saudi Arabia: http://www.torontosun.com/2015/01/27/shame-and-scandal-in-saudi-arabia
[9] Doudi, son of Raif, writes to his father in prison: http://youtu.be/e4ESiwgr8No
[10] Canada Must Demand the Release of Saudi blogger Raif Badawi: https://www.atheology.ca/press-releases/2014-05-23/
[11] Release Saudi Blogger Raif Badawi: http://www.internationalfreethought.org/spip.php?article371
Click here to print.